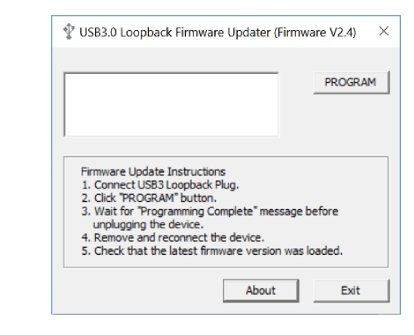 Update to the latest firmware version for your PassMark USB 3.0 loopback plug
Versions: V2.6
Latest release date: 10 November 2021
Price: Free with the purchase of a PassMark USB 3.0 loopback plug (See USB 3.0 loopback plug pricing details)
Platforms: Windows 7, 8 & 10. Firmware updates on Linux are not supported.
Requirements: 512MB RAM, 1MB Disk space
Features
PassMark USB3 Firmware Updater is a simple Windows based application that allows users to update the firmware on their USB 3.0 loopback plug to the latest release version.
USB3 Firmware Updater is designed for use in conjunction with PassMark's USB 3.0 loopback plug and will successfully update the device's firmware connected through a USB 2.0 or USB 3.0 port.

The latest firmware release is included in the Firmware Updater download. The firmware version number of your device is displayed upon connecting your plug to a USB port.
The above diagram shows the results display following a successful firmware update. The USB3 Firmware Updater utility can only be used with the PassMark USB 3.0 loop back plug.